Register
Lost Password?
I hate cooking, but I love to eat!
Something you should know about my queer household is that no one is "the cook." No one here likes to cook or bake. No one here is particularly good at cooking or baking. No one here is working on a sourdough recipe. No one has cultivated a super-secret sauce recipe. I suppose I like the art of cooking when all other conditions are ideal, when I can get lost in the process, but getting that kind of cool-quiet, hot-tea-sipping, long-noon-stretching day is a rarity. And when I get those days, I prefer to fill them with travel, tv binges, family time, and naps. So does my spouse.
That said, we all have to eat and we all feel better in our bodies when we're not living on fast food morning, noon, and night. Plus, I feel some sort of obligation to get healthy-ish food into our kiddo. Here are some kitchen gadgets, big and small, that help me muddle through putting a hot meal on the table.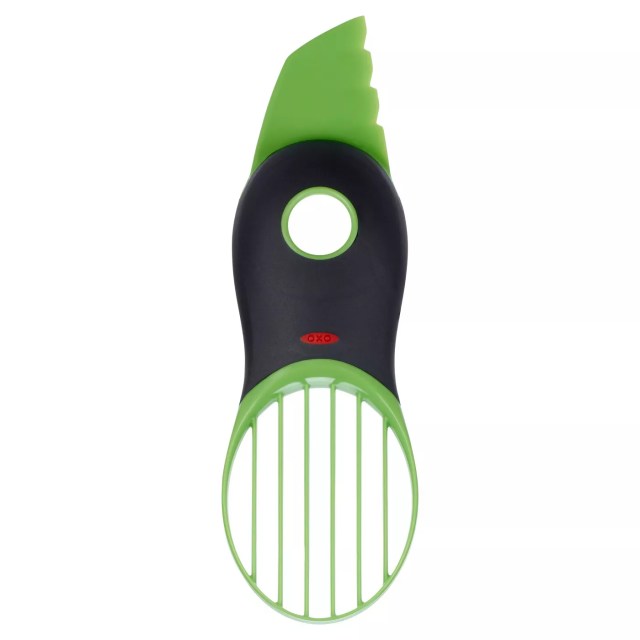 Whenever I see a professional chef whack into the center of an avocado to remove the pit, I cringe. Call me lazy if you want. I agree with you.
This is one of those random-ass gadgets I saw online that seemed really unnecessary, but I actually use very frequently. I'm really happy for the investment in not worrying about cutting myself with a knife while holding a slippery avocado.
Get it: $10.99

This one is a splurge, but, but it will replace several other appliances that lazy cooks rely on. My sister-in-law and brother-in-law had one of these and when our old inexpensive air fryer (a lazy cook staple appliance) was dying, we decided to get the Ninja Foodi 9-in-1 for our house. The biggest drawback is that this baby is big and doesn't fit under all cabinets. Measure before you buy. However, we were able to massively downsize and donate our Instant Pot, slow cooker, rice cooker, and steamer, and replace the air fryer. Do we have too many appliances? I don't know, probably — we've acquired them over almost seventeen years of living together, though, so cut us some slack.
So anyway, the Ninja Foodi 9-in-1 is a genius solution for lazy cooking. You can use it to cook fresh or frozen proteins, carbs, and veggies instead of baking them in the oven, in a fraction of the time. By combining a pressure cooker and air fryer in one appliance, you can pressure cook your proteins to get a moist, tender cook and then switch to the air fryer to get a crispy crust, without dirtying additional pans. You can also use the Ninja Foodi the same way you'd use a pressure cooker or slow cooker for stews, rice, making everything from cakes to hard-boiled eggs. And you can use the air fryer function to cook up all your favorite air fryer recipes. The inside cook bowl is extremely easy to remove and clean.
If the Ninja Foodi 9-in-1 is way outside of your price range, and you have a little extra to spend on kitchen gadgetry, I'd suggest lazy cooks get an air fryer. You can get an air fryer for about $40. They're incredibly easy to use and let you eat healthier, with much less prep and clean-up time.
Get It: $269.99


One of my favorite pastimes is melting plastic cooking utensils by leaving them sitting on the edge of the pot or overheating metal utensils using the same method. Wooden utensils have saved my cookware and give me the freedom to not give a fuck if I leave a spoon in the pot. Wood and silicone are also easy to clean and last a long time. The only downside is that the wooden spoons sometimes pick up stains, but I literally do not care.
Get it: $10

Do you need to blend or whip some shit? Do you have a fancy Kitchenaid stand mixer or a fancy blender with fancy attachments? Additional question, do you want to take out, set up, use, and clean your fancy blender or stand mixer? I thought not.
How about an immersion blender to do small batches of blending and mixing? You can use this to blend soups, smooth salsas, and anything else. You can use the mixer attachment to whip up frosting or whipped cream, beat eggs and make meringues. All in the pot or bowl in which you're already mixing or cooking! Fewer dishes to wash, more home-cooked tastiness and you can throw the attachments in the dishwasher if you have one or just dip them into soapy sink water and give them a spin to get them clean.
Get it: $19.99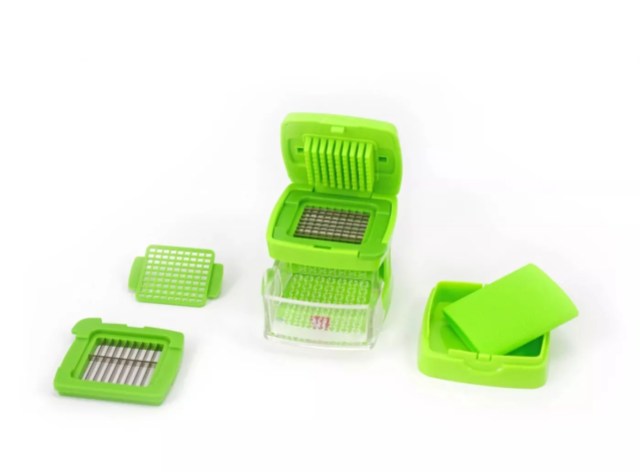 I know, this looks like something you'd buy off of an infomercial. But please, stay with me.
This kitchen tool makes it so much easier to cook with fresh garlic. Learn knife skills, KaeLyn. Be less lazy, KaeLyn. I know, I know, but I am who I am. The garlic peeler alone is worth it–such a time saver versus peeling garlic by hand. Especially if you don't want to smash the garlic with the side of a large knife for the recipe, which is the only other lazy way to peel it. The silicone pulls the peel off the garlic without smooshing it. Then you can use this tool as a garlic press, but better — because you don't lose any garlic at all. This does create slightly more dishes than the cutting board/knife method, but it's a small amount, and this stores in tight spaces. If the garlic press part doesn't appeal to you, I'd still suggest getting the little silicone garlic peeler thing. You can get them alone for a few bucks.
Get it: $13.49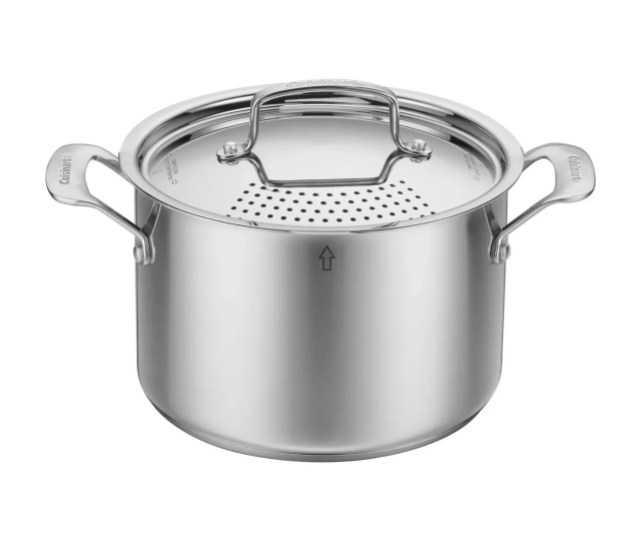 You may be noticing a theme here and that theme is that I love an opportunity to wash fewer dishes. May I introduce to your life, the pot with a strainer built into the lid?
There are many versions of this pot, but I'm telling you right now that you need one, with a lid lock ideally, like this one here. No need to use a strainer when making pasta. Or potatoes. Or, like, I don't know, Kraft mac or whatever you're making that requires you to boil water and then drain the water. This seems like a small thing, but it will change your life and also prevent scalding hot water burns while you're trying to juggle a full pot of boiling water and a strainer.
Get it: $49.99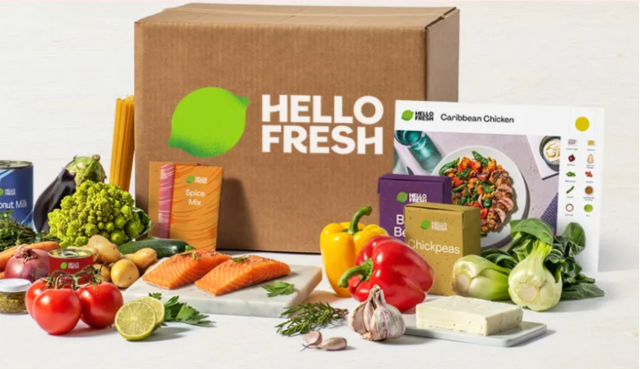 Let me level with you. A major part of my kitchen laziness is just generally feeling uninspired and not wanting to make or clean a bunch of dishes.
My challenge with meal kits in the past has been–you guessed it–the number of dishes some of them create and the amount of prep work and just, like, the time I want back even when everything is portioned out for me. I have also found that I don't need elaborate recipes. I gain nothing by learning to make a bechamel from scratch. It's interesting, but I'm just not the type of person who's going to be spending my precious time making a bechamel when I can…not do that.
Some meal kit companies have figured out that there's a target market in busy cooks who don't have time to cut a million vegetables up but still want fresh food. Hello Fresh now has 20-minute meals on the menu every week and you can easily adjust the number of meals you receive, pick your own menu items, and skip a week, pause, or cancel your account at any time. It's definitely worth it to try one of the 20-minute or one-pan meal kits if you are a lazy home cook who's feeling completely uninspired in the kitchen.
Get it: $7.49-$11.99 per meal
KaeLyn is a 39-year-old (femme)nist activist, word nerd, and queer mama. You can typically find her binge-watching TV, standing somewhere with a mic or a sign in her hand, over-caffeinating herself, or just generally doing too many things at once. She lives in Rochester, NY with her spouse, a baby T. rex, a xenophobic cat, and a rascally rabbit. You can buy her debut book, Girls Resist! A Guide to Activism, Leadership, and Starting a Revolution if you want to, if you feel like it, if that's a thing that interests you or whatever.
KaeLyn has written 225 articles for us.
Maybe this article is what it finally takes for me to get an immersion blender. My spouse keeps telling me I need one but I don't think I realized how affordable they are. Thanks for all the suggestions, KaeLyn!
My immersion blender gets so much use! Probably once a week or more. I make a lot of soups when it's cold, lately I'm on a lentil soup kick. I've got one that is steplessly adjustable and that's my rec, because you can perfectly adjust the speed. And I make a lot of hummus so I got one with those mini food processors too, because I like those for making hummus.
Strong encouragement for an immersion blender! I love to cook but am also lazy and not having to transfer stuff from the pot to the blender is a GAME CHANGER
definitely worth it! my GF is French and thus thinks chunky soup is a crime. I use it constantly to make soups, but also hummus or other spreads. Another favorite is baking a whole eggplant wrapped in tinfoil and roasting some garlic with it. Then toss the garlic and the eggplant flesh and some feta and spices into a tall cup thing (usually comes with the immersion blender), mix 'em up a bit and use it as a base for pizza in place of tomato sauce.
It's such a time saver for fast soups, too. I like to just slice a butternut in half, scoop out the seeds and put oil and salt on and pop it in the oven when I have a free minute. Bake it until soft then turn let it cool and whenver it's time for dinner I just blend it with some broth, onion flakes and curry powder, a bit of cream or coconut milk.
Also frozen broccoli: just throw some in broth until hot, with some seasoning (I like smoked paprika, garlic), add a bit of cheddar and mix it up. So fast and tasty. Or sauté a bit of curry paste in oil, then add broc and broth and heat. Blend it with some coconut milk and cilantro.
TLDR: definitely a good investment!
Yes, here for team immersion blender! The soup possibilities are plentiful!
My local grocery store has microwaveable fresh sweet potatoes. I love to microwave them, add a few cups of broth, and blend it into sweet potato soup!
Truly, you don't regret it.
Try adding red split lentils to you sweet potatoe soup. One of my personal favourites.
ok, so about that garlic peeler/slicer/press – is it easier to clean than the regular circular-style hand press?
Honestly…not really. The peeler is the really exciting part. This press takes less time, but is not any easier to clean than the circular handheld press, which I also have a version of. It does make it so you don't have to gather the bits of mashed garlic and repress them, though.
Full disclosure, I use the peeler every single time, but sometimes just do the chef knife and cutting board to chop the garlic, particularly if I can quickly mince it. I do use the press if I need to cut up a LOT of garlic. It saves a lot of time.
I have the simpelest garlic peeling system. Requires no extra implements to clean, because I enjoy cooking but I hate doing dishes. Just put a clove down on the counter, put the ball of your stretched hand on it and lean on it. Once you break the clove up a bit the peel falls right off.
That pot with the strainer and a lock is pretty genius. I've seen enough pots of pasta end up in the drain by tring to do the draining with the lid a little bit loose.
Ok, ok. Taking notes. Honestly I'm totally trying this the next time! That is basically what the peeler does, allows you to slightly squish the garlic and loosen the peel. I never thought about doing it with my bare hand!
The locking pot is in regular rotation in our house. It's so satisfying on top of being efficient! And if you have to rinse something your cooking you can put cold water back into the pot, swish it, and drain again. It's amazing!
Downside to peeling garlic by hand is that you can get some garlic smell on your hands. I do not care about that personally. I mince my garlic with a knife, because being a lazy dishwasher every extra implement that I do not use is good, and I always get some on my hands anyway.
Another great option: stick a whole bulb of garlic, skin and all in a medium heat oven for half an hour or so, untill it is soft but not leaking or brown. (I always squeeze mine in next to other dishes.) You can save the bulb in the fridge for ages. If you need garlic, squeeze one of the cloves and you'll likely have pureed garlic or a very soft clove. The taste is a little less sharp, I use this for hummus and other dishes that don't get cooked after the garlic is added.
if you don't want your hand to smell, just use a big knife. Put the garlic under the base of the blade down close to the handle and push the bottom of your fist onto the blade (towards the dull back side of course). I'm clumsy AF in the kitchen and have never cut myself doing this, skin is off in a flash.
That's what I often do, smash it with the knife, but I know a lof of people find it scary. And if don't have my proper knife around I just use my hands.
We have a version of that garlic peeler that can also cut potatoes for fries & it's been great.
Oooh! That sounds amazing!
kaelyn i came for the picture but wow this 9 in one thing!!! we happen to have 2 under counter cabinets but they are LARGE. it's a sign. going on our housewarming list.
the picture of you, to be clear!
Thank you for coming to look at my face. I'm sorry there was not more of my face inside the post.
Truly, the Ninja Foodi is the best appliance I've ever owned. I wish you the best for your housewarming!
A heads up for those of us who are bad ag doing dishes: you can't leave wooden utensils (or bowls or cutting boards) in water to soak, and you ABSOLUTELY cannot put them in the dishwasher.
They'll crack and split and become full of tiny little crevasses for germs to live in if they don't straight up shatter
Good tip. I don't have a dishwasher. Maybe that's part of why I loathe having too many pots and pans dirty at the same time! I do let them soak though sometimes. Is that…bad? 😬
Lay a damp paper towel flat over the top of your cutting board! It takes some getting used to because it changes the surface texture, so if you pride yourself on onion chopping speed this may not be for you but it works. I guess the onion tear chemical is attracted to whatever the nearest source of water is, so I've also tried setting a damp wadded up ball of paper towels next to the onion chopping station but it doesn't work nearly as well.
I *adore* my home chef meal kit subscription. they have an option for oven ready food which is a godsend when I'm low on spoons.
also, does anyone have any suggestions for how to cut onions without having your eyes water so bad you can't see to not cut yourself?
This is probably really unhelpful lol but I've found that when I have my contact lenses in, I can cut onions without crying! So if anyone in your household wears contacts that could be a solution!
It doesn't completely fix it, but helps me a lot if the onions are cold. Onions don't have to be kept in the fridge, but I do because it makes cutting them so much more tolerable.
I've got nothing other than getting like using a food processor or getting that thing…what's it called? The slap chop? Does that still exist?
I do find that chopped onions don't bother me as much when they're frozen so you could start buying them in the frozen aisle? Flash frozen is still pretty healthy. 🤷🏻‍♀️
Oh, also, agreed on Home Chef's oven ready kits. I did those for a few months earlier this year and it was a life saver to not have to think about what to make, not have extra cookware to wash, etc.
I got an Oxo Good Grips Vegetable Chopper this summer and that takes away 90% of the crying. You still have to cut the onion into big slices (3-6 depending on onion size and preference) then put it into the press and it will dice it and it drops into the box underneath. I rarely get more than a slight eye watering with it. The only downside is that it takes more effort to clean than a knife but a quick rinse immediately after use helps with that. I also second frozen onions! They make life so much easier!
For the onions: use a very sharp knife if possible, not serrated, breaking as little cells as possible. Make sure to keep your eyes as dry as possible. Stuff from the onions reacts to liquids, so the more tears develop, the worse it gets. Dab your eyes frequently. And lastly open up a window and create airflow.
second the very sharp knife. Also take some time to learn how to cut an onion efficiently (there are youtube videos that make it clearer, but basically cut it down the length so the root bit stays on and you can hold on to that to keep it in place and chop quickly) so it's over fast.
Oops, posted this to the wrong comment thread above, so I'm reposting here:
Lay a damp paper towel flat over the top of your cutting board! It takes some getting used to because it changes the surface texture, so if you pride yourself on onion chopping speed this may not be for you but it works. I guess the onion tear chemical is attracted to whatever the nearest source of water is, so I've also tried setting a damp wadded up ball of paper towels next to the onion chopping station but it doesn't work nearly as well.
Okay I am so impressed with all of y'all who actually use fresh garlic! I am at the level of lazy where I just buy the minced garlic in a jar.
I got that avocado slicer for Christmas last year and it's seriously one of the best gifts I've ever gotten. I use it all the time!
Omg I totally use the garlic in the jar sometimes. But I don't think it tastes as good. I do sometimes but the peeled garlic cloves at the Asian market to totally skip that step and that makes me happy.
all about that minced garlic (and ginger!) here
I love cooking but have limited energy for it thanks to long covid so I've had to change the way I cook with a few gadgets like a vegetable chopper but the best things are things that mean no chopping, like buying frozen diced onions and butternut squash and jars of dried garlic. I have no idea why I used to waste time chopping butternut squash by hand!
Yes to prechopped veggies. I used to think it wasn't worth the price, but the time savings means I'm more like to actually cook my groceries and less likely to just blow up my food budget by eating out because I run out of time or get overwhelmed. So the opportunity cost is worth it!
Its very wonderful article about this.
I have never, ever had a HelloFresh recipe take any less than 3x the time indicated. I enjoyed them to vary the menu a bit, but definitely never saved me any time or clean up. Then I got mad at them for changing what recipes I got and sending me crap that was far too simple for the price they charge.
I wanted to try an alternative service over the holiday, but the ones we have here (France) didn't have very exciting menus this week so I ended up splurging for a service that just delivers fresh ready to eat meals. The price comes out about the same per meal as HF, but I just pop it in the microwave for 2.5min and eat. Only a fork to wash. Totally been worth it. Uses loads of plastic, though, so aside from the price it won't be a weekly occurence for me. But definitely worth it for an occassional treat when the week will be busy.
I'd never heard of a straining pot lid before this moment, but I now realize that it is what I've been searching for all along. Thank you, KaeLyn, for leading me to the light!
I used to say "I am a kitchen jinx" and then I got systemic candida and did an anti-yeast diet for a year during which I cooked 3 meals per day. So I learned about new vegetables and learned to cook.
Then I gave it all up when I fell in love with a Junk Food Vegetarian who just wanted to go to diners for starch meals every day.
Eventually, I married someone for whom cooking is a family-of-origin-wide obsession, and I learned to love gourmet food and wine and having others cook it for me. But they do not know how to clean anything. So I entered into a wonderful arrangement: you cook, I clean.
Now, I occasionally cook an elaborate meal on a weekend if there is NO TIME PRESSURE AND EVERYONE LEAVES ME ALONE IN THE KITCHEN.
But my daily routine is to put on my favorite apron, my durable rubber gloves, and wield my scraper, my steel or copper scrubber, and my Secret Sponge (the one that can never be left wet in the sink because no one else knows it exists, well, okay my daughter knows and threatens to tell but never really will and even if she does my husbian will forget the next day), and I put on one of my Pandora stations like Afro-Funk or Modest Mouse and I clean the kitchen until it is actually CLEAN.
In short, I highly recommend aprons, gloves, scrapers, and copper or steel scrubbers and very new clean sponges that can be hidden from messy partners or co-habitants if necessary. These items make me feel happy about cleaning and I now bring them on most trips, even camping trips.
Oh! My citrus reamer! I don't want to cook, but can I concoct an alcoholic beverage for you from what I have on hand or what I remembered to obtain? It will most likely involve fresh limes and I do mean plural and I do not mean that I will be satisfied by squeezing any part of said limes by hand to see a pathetic dribble of lime juice enter your glass and then act like I've done you a favor by sticking the rest of it on or in your glass. No. I have standards. I will be employing my citrus reamer to extract every bit of juice these limes have to offer so that each drink contains the juice of half of one lime. Only then will I say that I have made you a proper cocktail.
My citrus reamer travels with me.
I dreamed last night that I was packing to flee to the wilderness due to the apocalypse. It was either a pandemic or a zombie apocalypse or a collapse of civilization or a war on American soil but the more important aspect of the dream was WHAT DO I NEED TO BRING? I gathered essential items and then remembered that my internal frame pack for backpacking would be a far superior mode of carry for so many life-saving things. So I got it down from the above above storage cabinet and started packing things in it. Sleeping bag, the clothing most likely to keep me alive and comfortable through several seasons of walking in the wilderness, items that would help us make and store food we scavenged (I looked at my two can openers and considered packing both, given that we would need to survive on the canned food in abandoned houses), and I changed my outfit a few times based on anticipated temperature ranges and sun exposure as well as the need for it to be my ONLY OUTFIT for months and be quick-drying and also warm enough for winter.
The dream ended before I woke up but I am reasonably certain that if this were to happen in real life I would pack my apron, gloves, scraper, steel or copper scrubber, Secret Sponge, and I would agonize over whether I had room for the citrus reamer.
Yay! You've decided to leave a comment. That's fantastic. Please keep in mind that comments are moderated by the guidelines laid out in our comment policy. Let's have a personal and meaningful conversation and thanks for stopping by!









Enby is a Black/Trans owned company run by 3 enby's that believes that all bodies deserve affirmation and pleasure. The strive to create a safer, and more comfortable sex-toy shopping experience for the Queer community and more specifically gender non-conforming, trans and non-binary people.
Copyright 2009 – 2022 The Excitant Group, LLC. All Rights Reserved.
Comment Policy